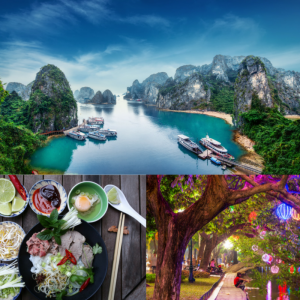 A Bag & A Book (By Pagdandi & Black Swan Journeys) brings to you destination Vietnam. Customized travel experience with perfect book recommendations to go with it.
Vietnam is much more than the cataclysmic American war that everybody talks about; it is in fact a bewitching country that enthralls you with its myriad cultural influences, bustling energetic cities like Hanoi and Ho Chi Minh, natural exotic landscapes, island – studded azure seas and undoubtedly – Vietnamese cuisine. Despite fighting several civil wars, this country wears its history proudly. The ruins of Hindu temples -My Son, Po Nagar are shining testimonies to its heritage. But the biggest attraction remains to be the surreal looking Limestone Islets – Ha Long Bay. A visit to Vietnam is certainly a rewarding experience, where Vietnamese people envelope you with their warmth and the mysterious grottoes beckon you with a promise of tales untold.
Book Recommendations by Pagdandi:
Catfish and Mandala: A Two-Wheeled Voyage Through the Landscape and Memory of Vietnam by Andrew Pham
Part travelogue, part memoir. A vietnam born american travels through the heart of vietnam on a bicycle as he reconciles his past.
Fragrant Palm Leaves by Thich Nhat Hanh
A journal maintained by one of the most loved Buddhist teachers before he left Vietnam. Fragrant Palm traces his thoughts and his multiple efforts for peace that Vietnam deserved.
The Quiet American by Graham Greene
An Anti-War novel by the classic author. The Quiet American chases a British Journalist and an American CIA agent as they collide in their choices of love and sides of war.
Destination Saigon: Adventures in Vietnam by Walter Mason
A true blue travelogue of 21st century Vietnam. Walter Mason is in his element as he spots the quirks of Vietnamese people, their street food and jungle mosquitos.
Book with us and get 2 books out of the recommendations free. 

Experiences in Vietnam the Black Swan way!  – 
Spend a night on-board as you cruise through Halong Bay in a luxury junk boat and enjoy Tai Chi lessons.
Cooking demo as you cruise along the Halong Bay.
Explore the mystical Me Cung Caves.
A 25 minute flight in a seaplane around Ha Long Bay. You'll get to experience a birds-eye view of the spectacular Ha Long Bay from 300-500 meters above sea level.
Tour the underground war tunnels at Cu Chi.
Walk the markets of Hoi An: a unique amalgamation of Chinese, Japanese & Vietnamese with an expert guide.
Visit the historic Ben Thanh Market in Ho Chi Minh City.
A half-day bicycle tour to Kim Bong Carpentry Village , which allows visitors to see the artisans working with their skillful hands on the crafts.
and more…
To customize your travel and get free books Call Vishal on 9 8 9 0 9 9 2 4 7 0 or email us on contactus@pagdandi.org
To know more about 'A Bag & A Book' visit www.pagdandi.org/travel