Hello everyone! Today Vishal is super busyyyy so I thought tentenaaaaaa… I would take over 😀 😀
I will start with something super exciting… yup… we kind of stumbled upon this beautiful 70 year old antique piece, superbly beautiful…. A MASTERPIECE… I must say. The poor thing was getting drenched in the rain, almost invisible to everyone, but still retaining its beauty and elegance. And then, ten tenaaaa, we bought it  and decided it to restore it with the help of our awesome carpenter, goyal ji.
One thing both of us would surely completely, without any arguments (since we argue on almost everything) agree that we got one of the best team of carpenters, electricians, bamboo-crafting and painters. They stand all my crazy ideas, listen them patiently without scrunching their face once although I'm pretty sure if they get a single opportunity they would like to kick our butts and throw us as far as possible from the shop 😛 😀 i swear…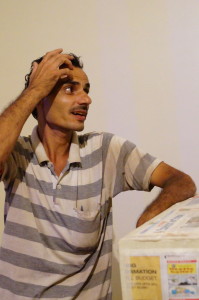 But honestly, I think we will never ever be able to thank them enough for everything. For their hardwork, patience and their capacity to stand me, hipping-hopping in the small space stumbling upon almost vereything, while they are at work. 😀
Love the way Vishal takes over things in his hands. He wanted someone to grease the shutter but when he couldn't find anybody, he strated on his own.